Reims F406
TWIN-TURBOPROP AIRCRAFT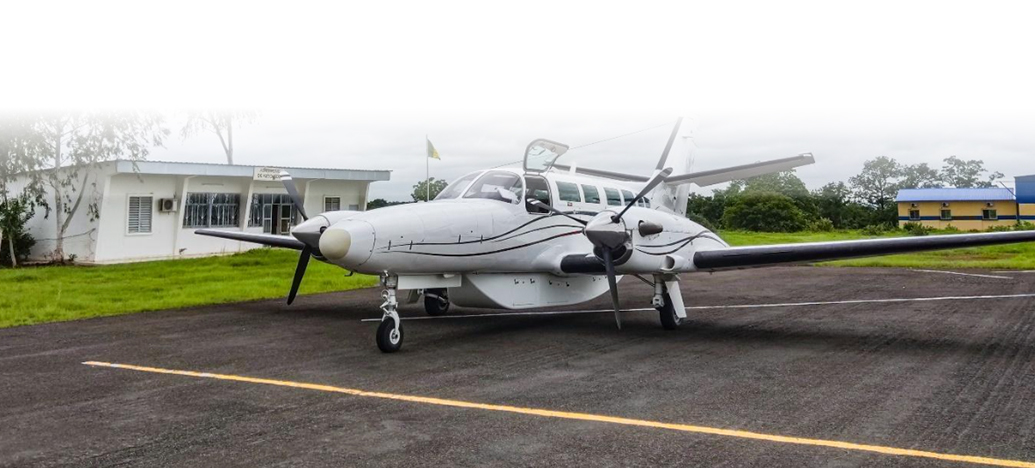 The Reims F406 Caravan II is a non-pressurised twin-turboprop aircraft designed and built by Reims Aviation in conjunction with Cessna. Described by Reims Aviation as a "workhorse", the F406 is available as a 10-seat passenger transport, a six-seater for executive / VIP use or a small cargo transport, with a nominal maximum payload of just over 1,500kg; for extra capacity a 1.3m³ cargo pod can be fitted to the belly of the aircraft, which can carry up to 320kg of general freight or passenger bags.
More than half of the +/-120 aircraft sold worldwide, are used for missions such as maritime surveillance, pollution monitoring, search and rescue, cartography / geo-survey and target towing. Basic features of the F406 such as its 360° visibility, low empty weight, wide range of operational speeds and full cargo door access make it particularly suitable for special missions. There are more than 150 EASA and FAA-certified mission kits available.
Though the F406 is more expensive to operate than other single-engine aircraft of the same passenger capacity such as the Cessna 208 Grand Caravan, this aircraft proves its value having two engines making it faster at 230 kts (426 km/hr or 265 MPH), its range covers more ground at approximately 1100 NM (2037 km or 1266 miles) and most importantly, it complies with European regulations regarding commercial operations. These regulations only allow multi-engine aircraft to complete commercial instrument flights which makes our F406 particularly useful with flights to and from Sao Tome, Cape Verde and the Canary Islands.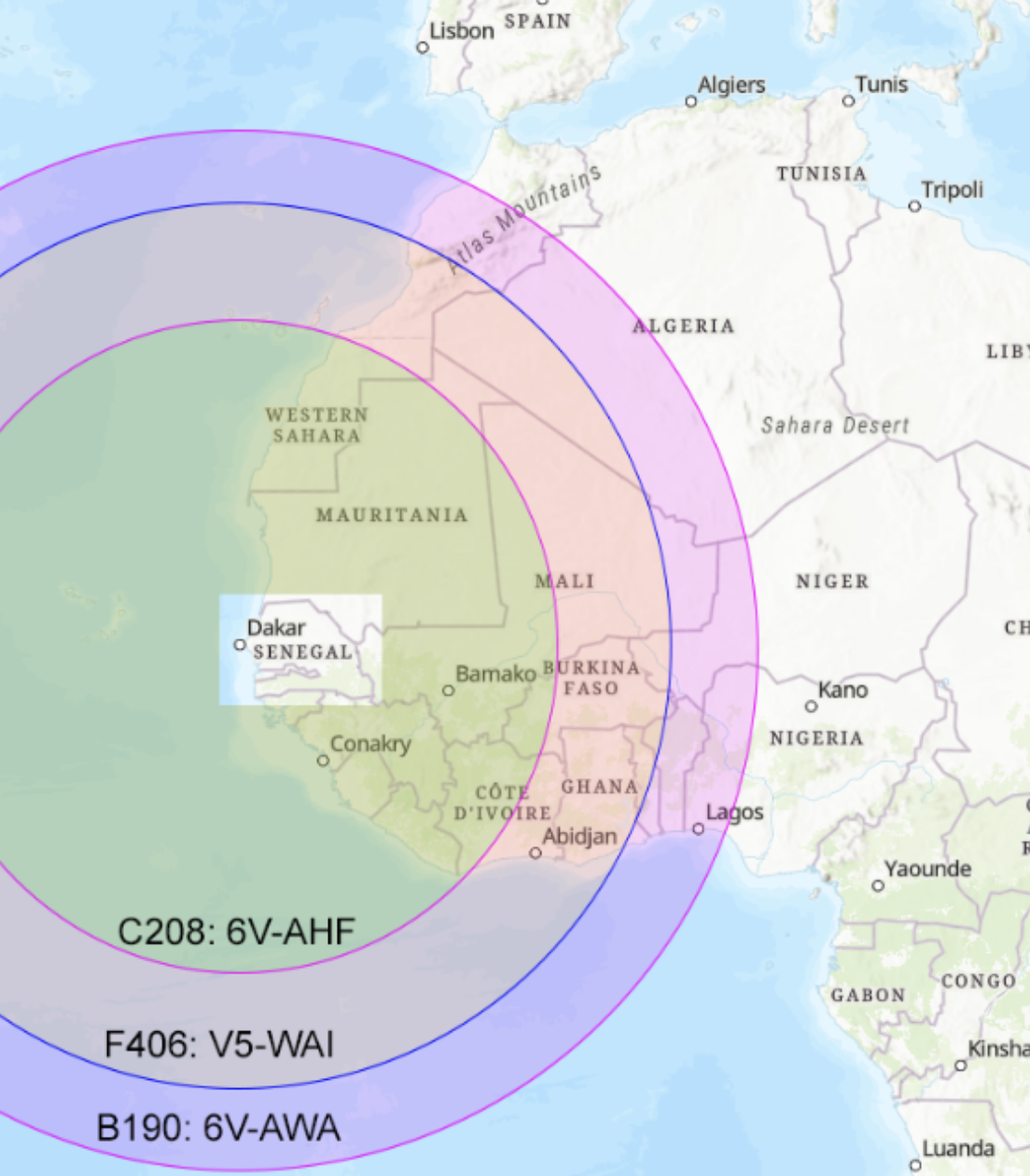 Max. range comparisons between Arc En Ciel's Grand Caravan C208, Twin Caravan F406 and Beechcraft B1900D.
The F406 supports the West African aviation market extremely well from passenger/commuter, freight and aerial survey flights through to many medical evacuations this aircraft is in high demand!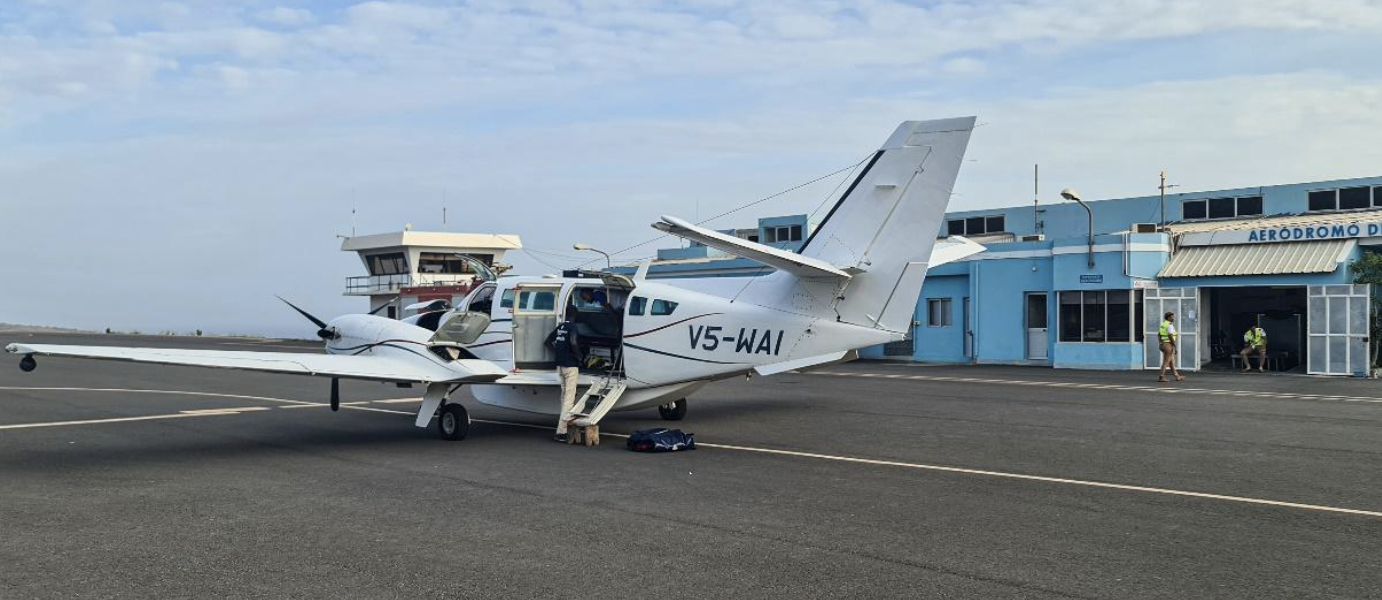 São Filipe, Fogo, Cape Verde islands
The F406 is powered by two Pratt & Whitney Canada PT6A-112 reverse-flow axial-centrifugal turboprop engines flat-rated to 372kW (500shp), initially designed by Cessna. Each powerplant drives a McCauley three-bladed, reversible-pitch, fully feathering, all-metal propeller. Another machine in our fleet hosting the ever-reliable PT6 engine.

The aircraft is equipped with a full colour radar and Terrain Advanced Warning System (TAWS). In partnership with Westair Aviation, we ensure our crews are trained to the highest standard utilizing our own inhouse flight simulator training device which is build specifically to accurately reflect the cabin and equipment of this aircraft. 
The F406 Caravan II features a spacious and comfortable 1.42 m wide interior, accommodating 12 passengers in a 5.71 m long cabin that allows more leg space than most other aircraft. The height of the cabin is 1.31m and in the Executive configuration the F406 accommodates either two pilots with six or one pilot with seven passengers. The cargo door allows easy loading of patients and, together with the certified electrically powered medical bed, it facilitates medical flights into far away destinations. The aircraft hosts a cargo pod allowing for additional luggage and cargo space – yes, more leg room!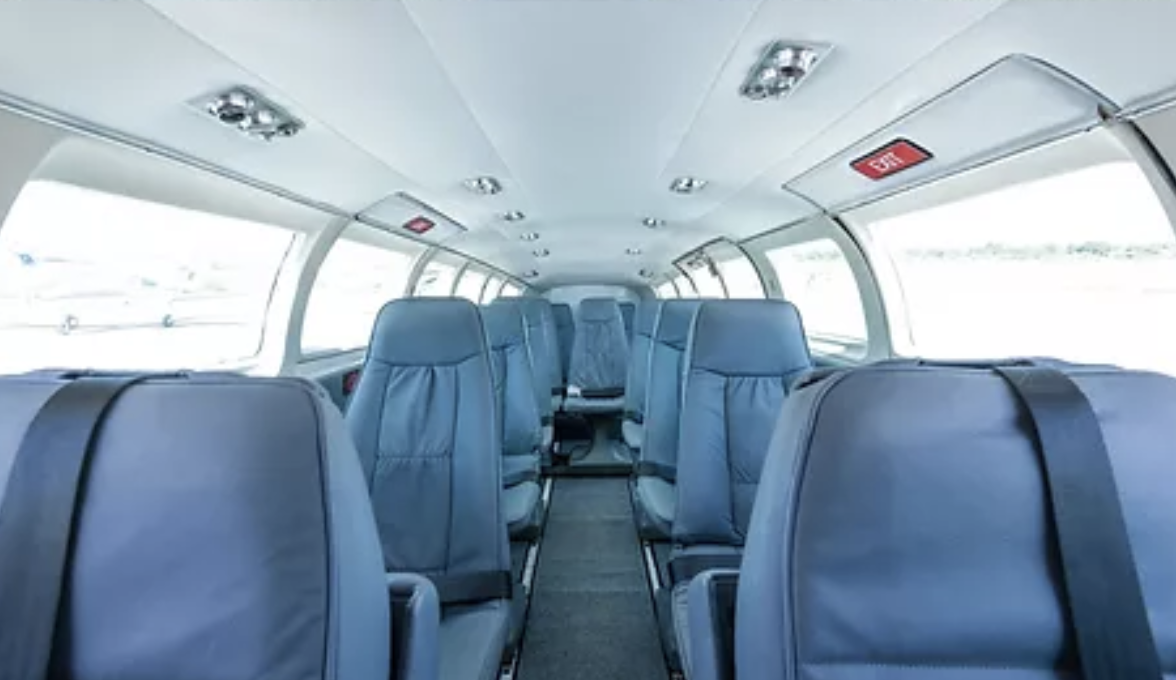 Standard Passenger configuration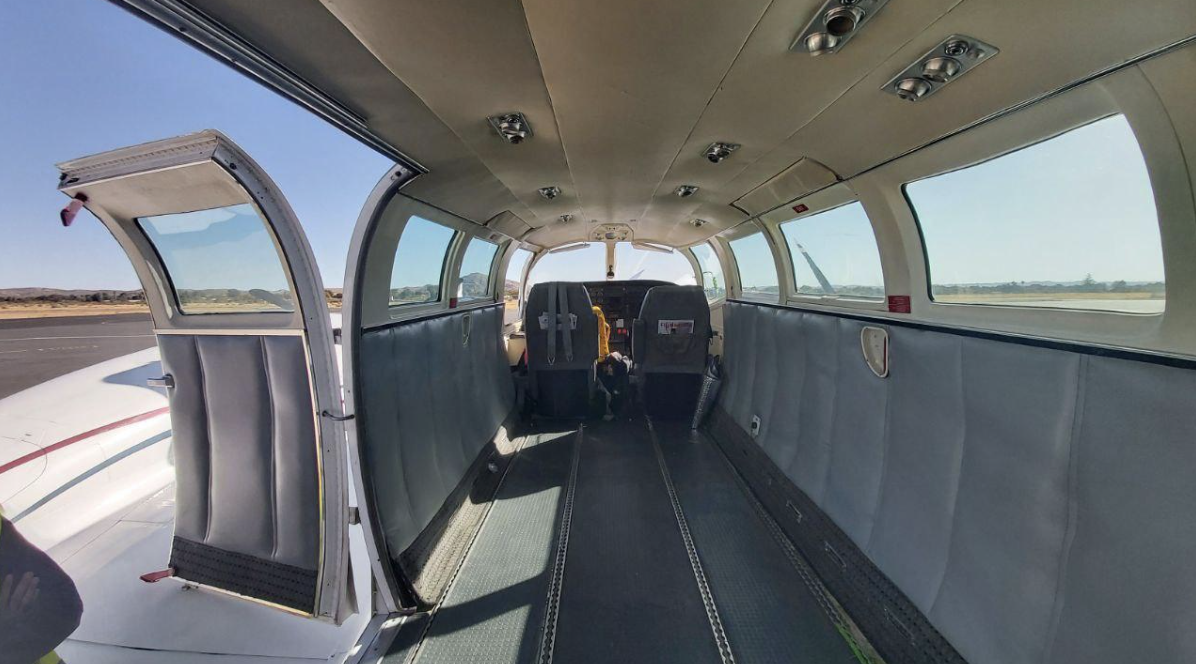 Cargo configuration – cargo pod installed beneath cabin for increased capacity
Passengers: up to 10
Crew: 2
Snack onboard: catering on request
Luggage: standard size. Weight and number of bags variable: based on route and passenger numbers.
Medevac configuration 1 & 2 – with 4 seats located behind the bed for patient companions and (if required) additional medical crew.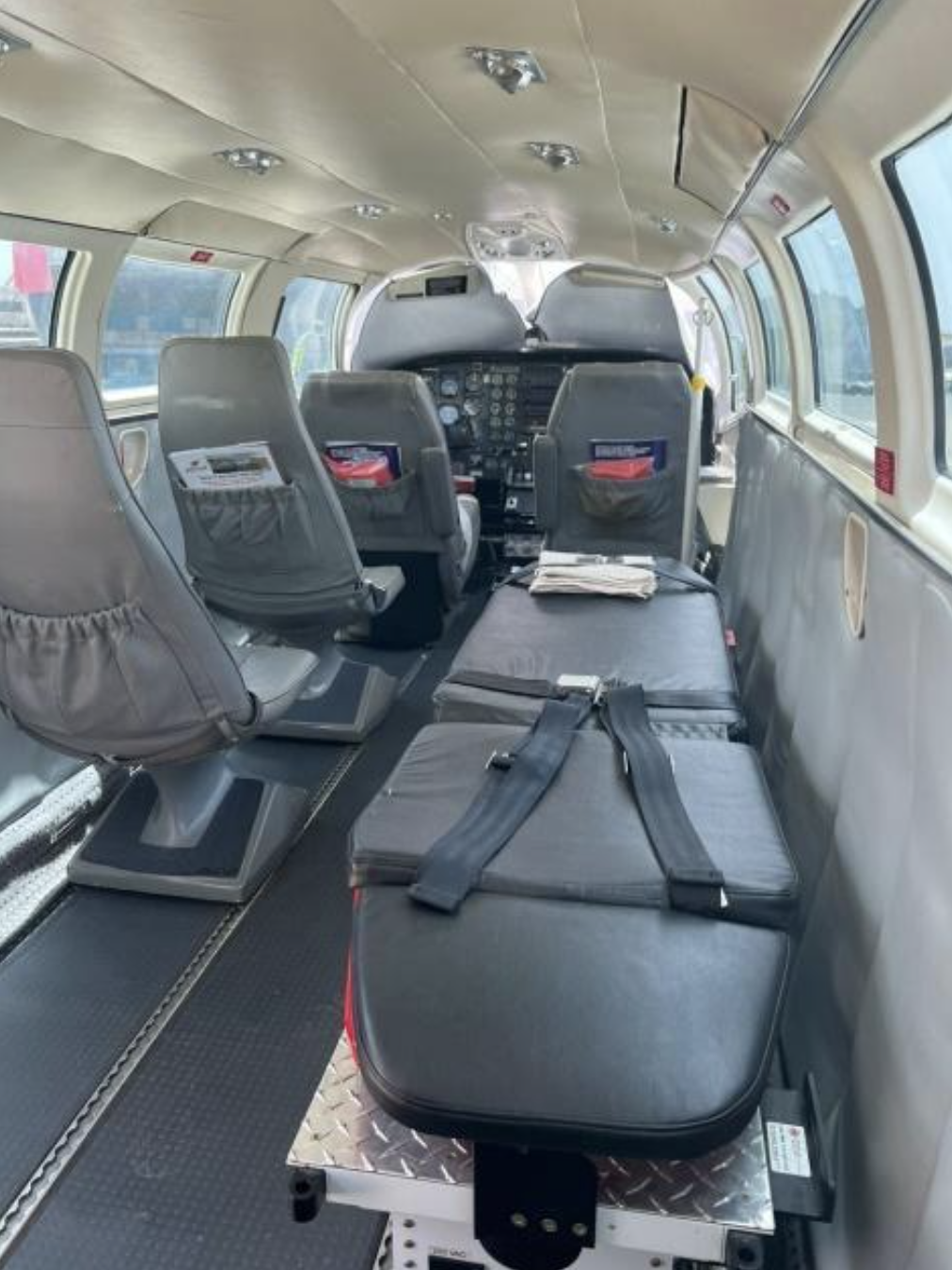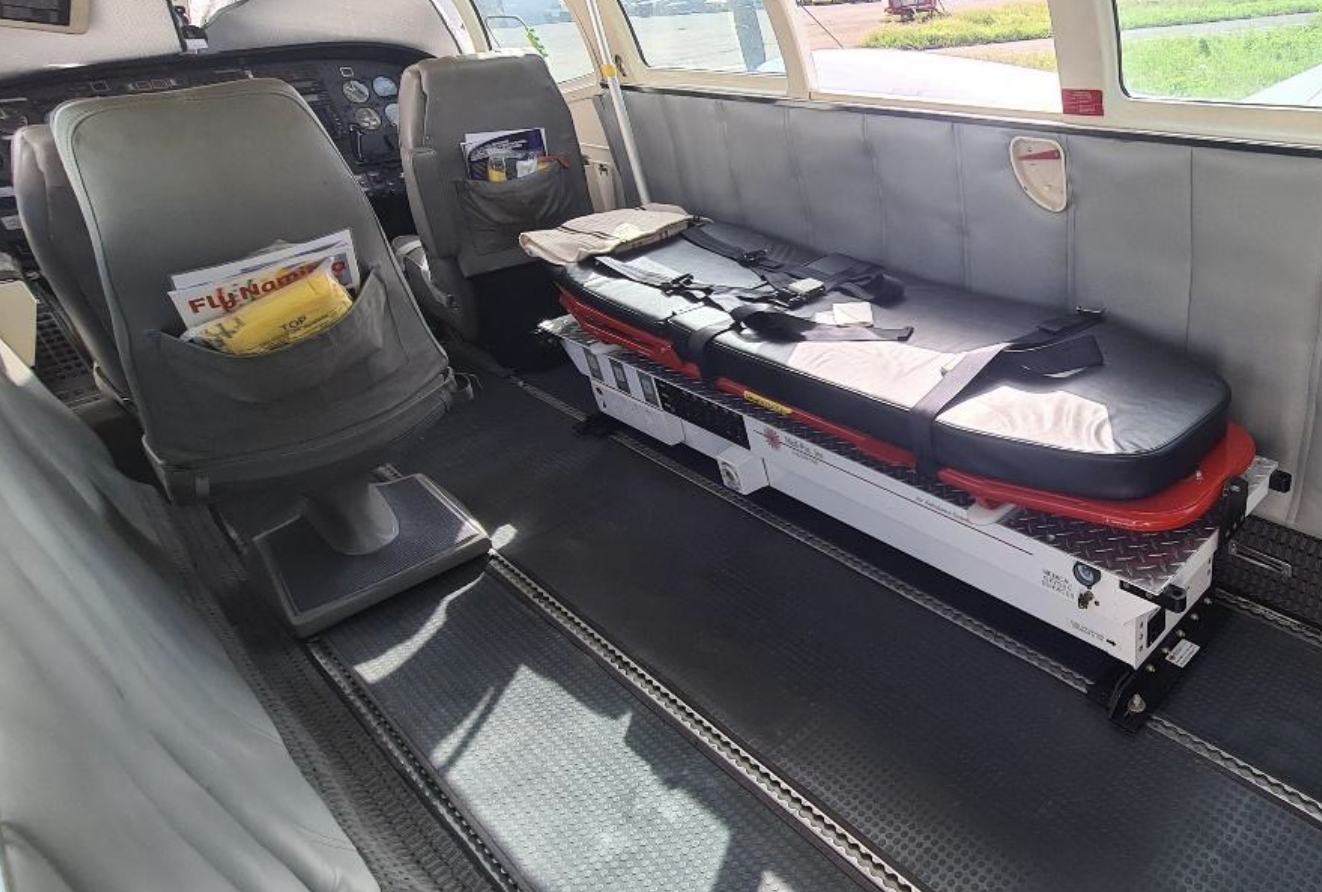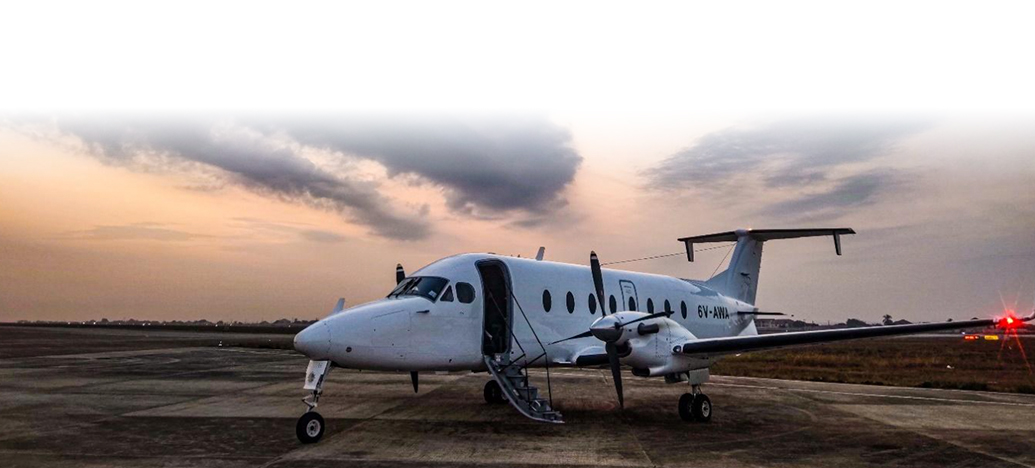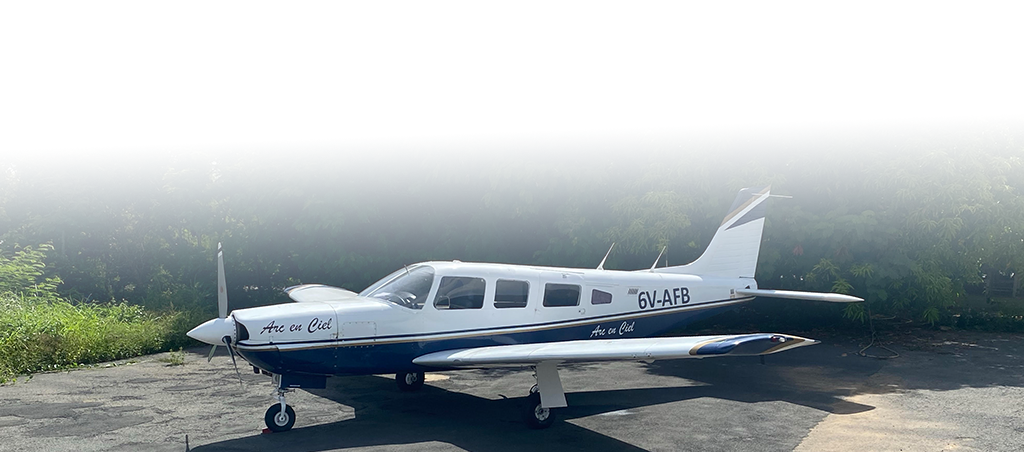 PA32 - Saratoga
THE MOST ECONOMICAL MONO-ENGINE
Our office
ARC EN CIEL S.A.
Airline company
Aéroport L.S. Senghor
BP 29.212
Dakar-Yoff, Sénégal